This is a tutorial on Space And Depth and how to achieve it on a 2-D digital surface.
Space is an Element of Design, therefore, there are rules to create the illusion of 3-dimensional a 2-dimensional surface.
There are three ways to crate the illusion of space and depth:
1. By overlapping: When objects overlap, the top object become the closest object.
2. By using Atmospheric Perceptive: Objects in the nearest foreground are always the largest, clearest, and has the most detail. As objects move
back
into the furthest background, they become smaller, fuzzier, and have less detail.
3. By using Liner Perspective: Using the horizon line as the focal point, invisible parallel lines move towards the horizon appearing to go from wide to narrow. Large objects appear to get smaller as the lines on either side move towards the horizon line.
This tutorial will cover how I created the sense of space and depth in my recent deviation, "Cardinals With Autumn Leaves".
1. First I do a layout with the model stock (the stock is only trimmed. I'll complete the cut out once I'm satisfied with the composition), the cardinals, and some leaves.
A. The model is in the near foreground. However, there is a cardinal "on top" and overlapping the model, so that places that cardinal in the nearest foreground.
B. The other five cardinals are placed into the middle ground and the background. The smaller the birds become, and how much detail there is in their appearance, the more the illusion of space. The same applies to the few falling leaves. They are part of the middle ground.
2. After trimming the model stock, I change out the bunch of flowers, and add small leaves in the foreground and background, with some larger leaves in the middle ground.

3. The smaller leaves are from the same stock, but in different layers and off center from each other.
A. One layer is darken to make them appear in the furthest middle ground and the background.
B. Some large leaves were added in the nearest foreground.
To help with the appearance that the middle ground and background have been "pushed" further back in to space, I use a texture between the model and the layers in front of the background at 45% to 33% opacity on the "Overlay" blend mode.

In addition, I'll blur the background between 3 and 5 %.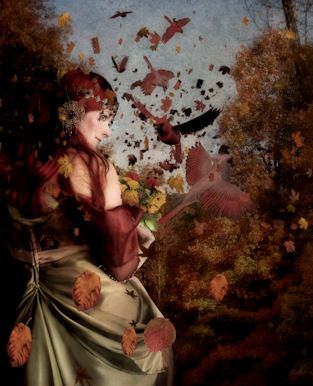 5. Last, I used a warm tone filter is used to make the image a little brighter.
Tutorial by thefantasim
Another Autumn theme deviations.

Stock:




Cardinals (no longer at account)
the-night-bird Falling Leaves (small) the-night-bird.deviantart.com/…
MaureenOlder Fall Leaves maureenolder.deviantart.com/ar…
lilpixie-stock Floral Arrangement lilpixie-stock.deviantart.com/…
Ayelie-stock Textures ayelie-stock.deviantart.com/ar…
attempte-stock Texture attempte-stock.deviantart.com/…
Background stock:
WriteGirl Autumn Bush satorirose.deviantart.com/art/…
Thy-Darkest-Hour Autumn Trees thy-darkest-hour.deviantart.co…
frozenstocks Textures frozenstocks.deviantart.com/ar…